Sampling Systems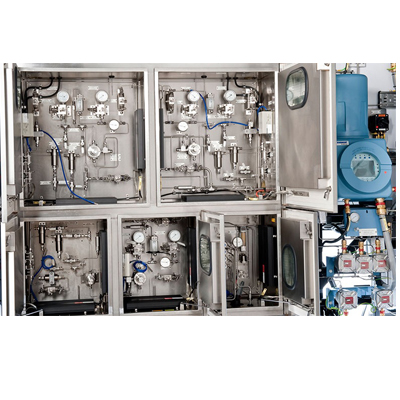 It goes without saying that all high accuracy gas flow measurement requires representative product quality measurement in the form of metering sampling and analysis systems. Therefore, there is a requirement to integrate real-time measurement of density, chromatographic composition, Wobbe index, calorific value, dewpoint and sulphur into a gas metering package with associated pressure reduction, filtration and gas conditioning systems.
Our principal have the vast skillset required to provide all metering sampling and analysis systems commonly associated with liquid custody transfer, including fast loop or insertion automatic sample systems with single or multiple atmospheric or pressurised sample receivers, density and viscosity measurement, and water cut analysis.
We can also provide a solution to satisfy less common requirements such as RVP analysers and LPG chromatographs. Our systems are supplied complete with all necessary mixing (static or powered) to ensure samples are fully representative.
Black Powder Solutions (BPS) Magnetic Separator Systems are inline, full-flow systems for removal of ferrous and non-ferrous solid contamination (Black Powder™) from process fluid and gas systems.The Magnetic Separators remove contaminants up to below 1 micron with high efficiency,which improves equipment reliability and significantly reduces OPEX and GHG emissions.
The magnetic separatorsystemusea magnetic Array within an engineered pressure vessel that maximizes dwell time and particulate removal capability with minimal pressure drop (~0 psi ΔP in a clean system). Each system is engineered to achieve 99%+ efficiency in removing Black Powder contamination of all ferrous particles by accounting for design parameters such as flow rate, pressure, temperature, viscosity, medium and others.
BPS Magnetic Separator Systems require only cleaning rather than any filter element disposal as in conventional solid filtration systems. Options for manual, semi-automatic or fully automatic cleaning systems are available.Each system offers long life service, utilizes minimal consumables, and require minimal to no power.
The Spiral Plate Heat Exchangers are made of 2 concentric channels on which spacer pins are welded to form the channel's gaps. Each channel gap and the width of the channels are selected to meet each Customer's specific requirement and working conditions. It permits to take into account the flow rates, the sizes of the particles for fouling fluids and the pressure drops. These spacer pins facilitate turbulent flow in each channel.
Thanks to its thermal efficiency, its strength and its versatile design, the Spiral Plate Heat Exchanger has proven since 1930 to be essential in fields as various as Refineries, Petrochemical, Oil&Gas or Environment. Key Features and Benefits of Spiral Plate Heat Exchangers are;
Single channel: The single channel flow of our heat exchangers makes it a unique feature in the world.
Self-cleaning effect: Thanks to the single channel configuration, a turbulent flow is created to handle tough medias.As it is a single channel heat exchanger, if there is any cross-section reduction inside the channel, flow velocity will increase flushing out the deposit.
Fouling duties: Originally the spiral plate heat exchanger was mainly used in the pulp and paper industry where fouling problems were frequent when using classical shell and tube exchangers (or multi channels heat exchangers) due to fibers in the effluents.
Tough process conditions: Because of their robust constructionspiral heat exchangers are meant to handle cycling duties. Spiral heat exchangers can expand without mechanical failure when pressured or by increase in temperature.